Thursday, November 30, 2006
Public Service Announcement:

World AIDS Day is December 1st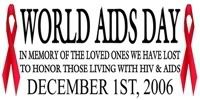 Before the fun, I just wanna take a moment to promote World AIDS Day which is tomorrow and celebrated every December 1st. is dedicated to raising awareness of the global
AIDS
pandemic
caused by the spread of
HIV
infection. AIDS has killed more than 25 million people, making it one of the most destructive epidemics in recorded history.

Established by the
World Health Organization
in 1988, World AIDS Day serves to focus global attention on the devastating impact of the HIV/AIDS epidemic. Observance of this day provides an opportunity for governments, national AIDS programs, churches, community organizations and individuals to demonstrate the importance of the fight against HIV/AIDS.

The most important take home message I can provide is for each of you to know your status! Thats all I ask.

For more information, visit the following sites:
World AIDS Day
: Provides information on HIV and AIDS, a screen saver, and red ribbon merchandise.
Division of HIV/AIDS Prevention: Includes fact sheets, FAQs, statistics, and trends.
AIDS.org: News and resources about HIV and AIDS. Includes FAQ, the basics of getting tested, strategies for AIDS prevention, treatment news, and fact sheets.
Medscape HIV/AIDS Homepage - Medscape.com: Features medical journal articles, Free CME, MEDLINE, case reports, medical news, major conference coverage, and comrehensive drug information.
The H.A.M.

Lawd what a mess!
The title of this photo shoot is called "Nice Sweater"
A Lot Closer 2 Ecstasy and I'm out!
"If you see someone without a smile today, give them one of yours!"
posted by Superstar Nic at 8:53 PM, |


4 comments